Careers Programme
Our aim is to provide an outstanding programme of Careers Education, Information, Advice and Guidance activities that satisfy national requirements and provide guidance which enables us to address the career development needs of all our students. We pride ourselves on the impartial guidance offered to students across KS3, KS4 and KS5 to help them make decisions about their futures.
Raynes Park High School has been awarded The Quality in Careers

Standard in recognition of our excellent programme of Careers Education and Guidance which fully meets the Gatsby Benchmarks of Good Career Guidance.

CAREERS DEPARTMENT STAFF
Ms J Fowler- Careers Leader
Mr D Ryde - Independent Careers Adviser

FACE-TO-FACE GUIDANCE INTERVIEWS
All students in Year 10 and 12 will work with our independent careers adviser who is in school once a week. All students will then receive a follow-up interview following which a written action plan will be produced and shared with the student and their parents. Parents are encouraged to take note of the action points so that they can support their child in reaching their goals. Ms Fowler, the Careers Leader, is also fully-qualified to give careers guidance and will work with students in Years 11 to 13. Appointments with Mr Ryde and Ms Fowler are also available at Year 9-13 parent evenings.
If you have any queries about Careers, Apprenticeships, Work Experience or Higher Education please contact Ms Fowler: jfowler@raynespark.merton.sch.uk or 0208 946 4112 x 1108.

OVERVIEW OF THE CAREERS PROGRAMME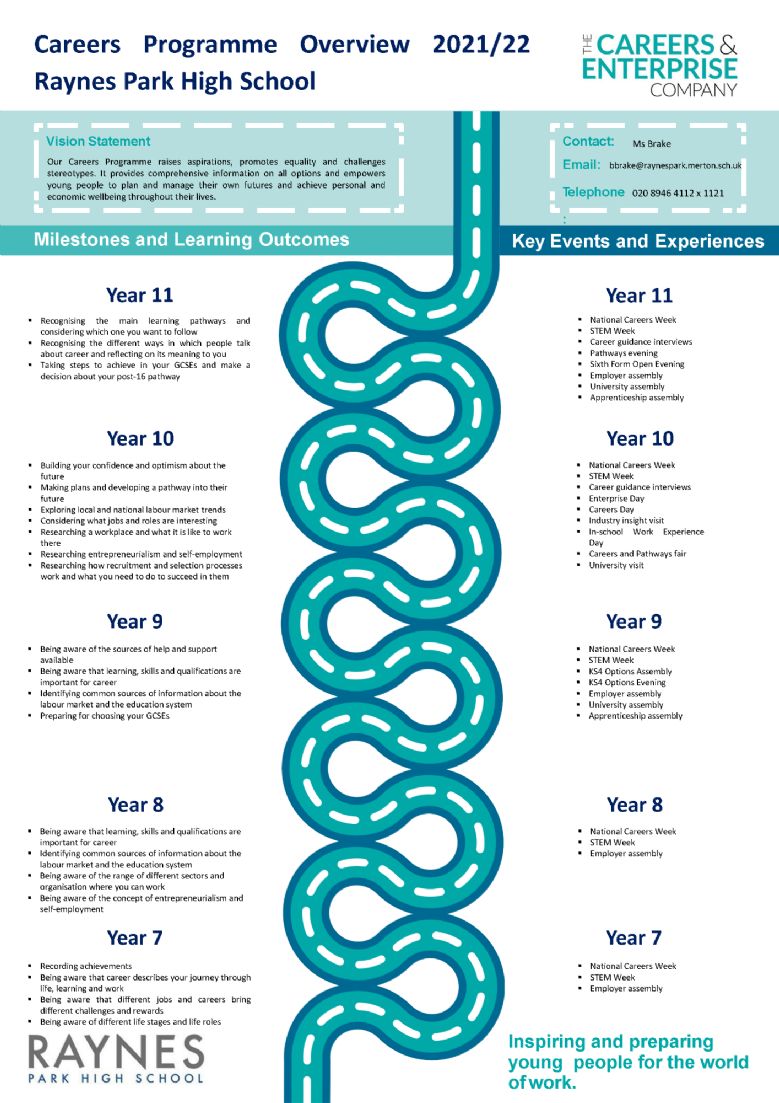 This road map shows an overview of the Career Journey of a student at Raynes Park High School and is based on achieving the outcomes as set out in the Career Development Institute's Framework for careers, employability and enterprise education.
These pages are reviewed once a year.