Uniform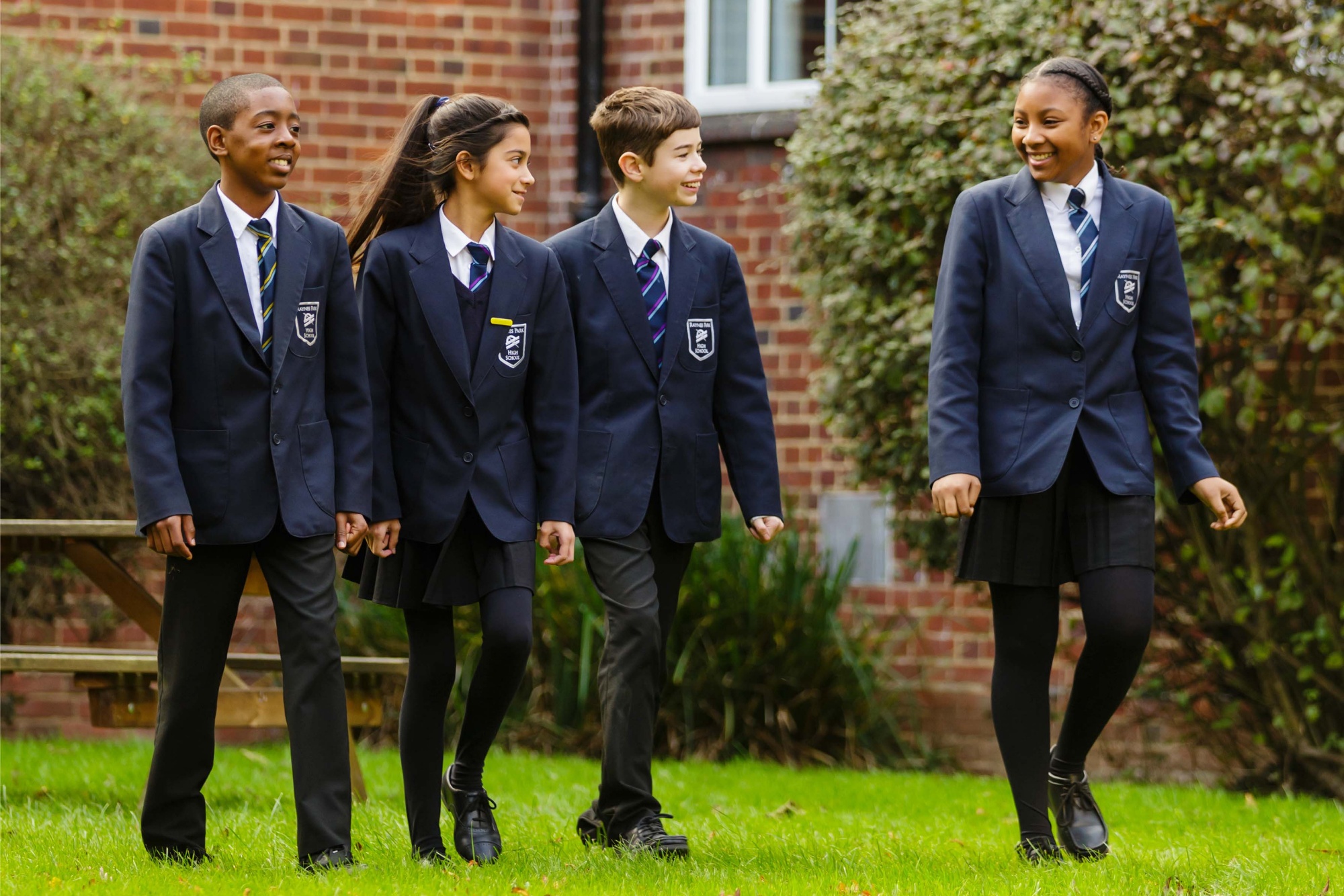 Our school uniform supplier can be found here; www.sud.co.uk
NB Ties can only be purchased directly from the school.

SCHOOL UNIFORM
Blazer
Navy blue blazer with a RPHS embroidered logo. Students must wear these at all times
Trousers or Skirt
Plain black trousers (straight cut school wear, not tight-fitting fashion style, ankle grazers or black denim). Skirts must be plain black, fully pleated with School logo for Year 7, 8 and 9 students within 2 inches/5cm of the knee. Tights are allowed but must be black opaque. Socks should be plain black ankle socks. No knee length or over-the-knee socks. No designer belts, only thin leather belts with a small buckle
Shirt
White collared (top button essential)
School Tie
Clip-on tie in House colours
Shoes
Plain black, low heel, fully enclosed leather shoes – No trainers, plimsolls or canvas shoes or leather shoes carrying an explicit sports logo. No leather vans, converse or similar
Jumper (optional)
Navy blue long sleeve jumper with school logo
Headwear
Headscarves may be worn (for religious purposes only) and should be either plain black or navy blue. Baseball caps and bandanas may not be worn. Coloured hair extensions are not permitted. Shoulder length hair should be tied up for all practical lessons. Hair decorations should be navy blue or black
Hair & Make-Up
Hair should be neat and tidy and not dyed in unnatural colours or cut into severe styles (as defined by the school – no shorter than a grade 2) No design should be shaven into hair style or eyebrows. Make-up and nail varnish is not permitted. Coloured nail varnish is not permitted. Acrylic and fake nails are not permitted and students will be asked to remove them
Jewellery
One pair of small ear stud earrings (5mm diameter). One in each ear. Students are not allowed earrings in the tragus of the ear
Facial Studs
Nose, tongue, eyebrow studs, including clear studs, ear expanders or any other earrings that are considered by the school to be excessive are not permitted. Rings and bracelets may not be worn
Coats
Should be proper outdoor waterproof coat. Denim jackets and any coat that the school deems as 'Hoodies' are not allowed
School Bag
Large enough to fit an A4 folder
PE KIT
Compulsory for Years 7, 8, 9 , 10 & 11
Compulsory: RPHS PE top, RPHS shorts/skort and RPHS socks
Optional: RPHS tracksuit (advisable in colder weather), RPHS PE Leggings.
No thermals or similar to be worn.
Jewellery in PE Lessons
"Personal effects, such as jewellery, religious artefacts, watches, hair slides and so forth, should always be removed to establish a safe working environment" (Safe Practice in Physical Education and Sport)
Trainers in PE lessons
Defined as those which "demonstrate effective grip, support and reasonable protection" (Safe Practice in Physical Education and Sport). For example, a 'cross' trainer or running shoes that are suitable for a wide range of activities. This does not include plimsolls, pumps, converse style pumps, or any trainer that goes above the ankle.